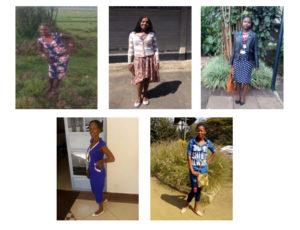 We recently received an update from our colleague John Parsitau, who helps to coordinate the Initiative. He writes about how the achievements of these women have gone hand-in-hand with bringing cultural and environmental awareness to their community and how this program continues to be a wonderful success. He writes about the women below:
Hellen is currently mentoring students and volunteering at Compassion International. She has become an advocate for education for young Maasai children, especially young girls. She graduated last year from Egerton University with a degree in Gender and Development studies, and was the first woman in her village to get a university degree. She is considering continuing her education by enrolling in a graduate program for Sociology.
Joy recently finished her industrial attachment at Rift Valley Water and Services Board. She was glad to have the opportunity and received an excellent recommendation from them. She is currently in her final semester at Mt. Kenya University and is due to graduate in December with a degree in Journalism, majoring in Public Relations. She is currently doing her Continuous Assessment Test and her end of semester exams in August.
Sabina is involved with activities at Indigenous information Network (IIN), an organization that deals with the rights of indigenous and minority groups, based in Nairobi. This has given her an opportunity to interact with different women and different cultures and learn a lot about how the rights of women and girls are abused. This opportunity has also built her leadership capacity. She is currently in her third year at Egerton University, pursuing a degree in Gender and Development studies.
Elizabeth recently finished her industrial attachment at Ewuaso Ngiro South
Development Authority (ENSDA). This opportunity has enabled Elizabeth learn in depth about the rights and livelihoods of the Maasai living in the counties of Kajiado, Nakuru and Narok. She is currently a fourth year student at Kenyatta University pursuing a degree in Environmental Studies.
Ann is still a wild life ranger with the Kenya Wildlife service, where she started after graduating from the Kenya Wildlife Training Institute. She has been involved in addressing human wildlife conflicts in Kajiado and had been helping in advocating for local conservation and creation of group ranches/community conservancies that will open opportunities for local communities to benefit from tourism. She is interested in pursuing a course on wildlife veterinary.